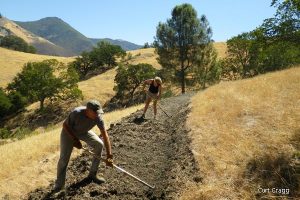 The Trails Council works with agency partners and community organizations to maintain trails all across Santa Barbara County. Our volunteer staffed events are posted on a the Santa Barbara Outdoor Volunteers web site that we helped establish. Go to http://sbvolunteers.org/ to learn about upcoming trail maintenance events and register for event notification via email. Alternatively, feel free to donate to support the maintenance of trails that you enjoy using.
Below are a few locations that we make an extra effort to be sure the trails are well maintained.
Gaviota State Park
Trails Council is working closely with the Gaviota State Park staff to maintain the trails in both sections of the park. You are encouraged to hike beyond the wind cave to see our work over the crest and into the back country. We have also cleared the Beach to Back Country Trail, Ortega Ridge Trail, Tunnel View Trail and we are now working on the trail that connects the Ortega and Tunnel View Trail.
Baron Ranch Trail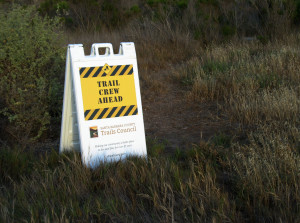 The remote location of the Baron Ranch Trail provides hikers with an opportunity to experience the Gaviota Coast. Trails Council maintains the upper reaches of the trail that offer visitors spectacular views on a clear day. The trail will become a multi-use trail and open everyday in 2016 or sooner. The trail is currently open on Saturday, Sunday and Monday.
Midland School Ranch Trails
With generous donations from community members and foundations the Trails Council had expanded the trails system in the foothill of the San Rafael Range in the Santa Ynez Valley. You only need to use the equestrian or hiking trails once to see the value of this exceptional trail network. The Trails Council provides ongoing trail maintenance.