Thanks to a generous series of grants from Brett and Natalie Hodges, this spring and summer, the Trails Council has worked extremely hard to improve existing trails and develop new trails at Midland School.
Thanks to the cooperation of Midland School and especially Ranch Manager Ben Munger, the Trails Council is proud to announce that the trails are now officially open — or at least they will be after our ribbon cutting ceremony Saturday, November 3 at Midland School.
Please join us on Friday night at 6pm for a slideshow presentation along with wine and cheese at the Santa Ynez Valley Historical Society or Saturday morning 9am at Midland School Green Gate for the ribbon cutting ceremony and guided hikes and rides.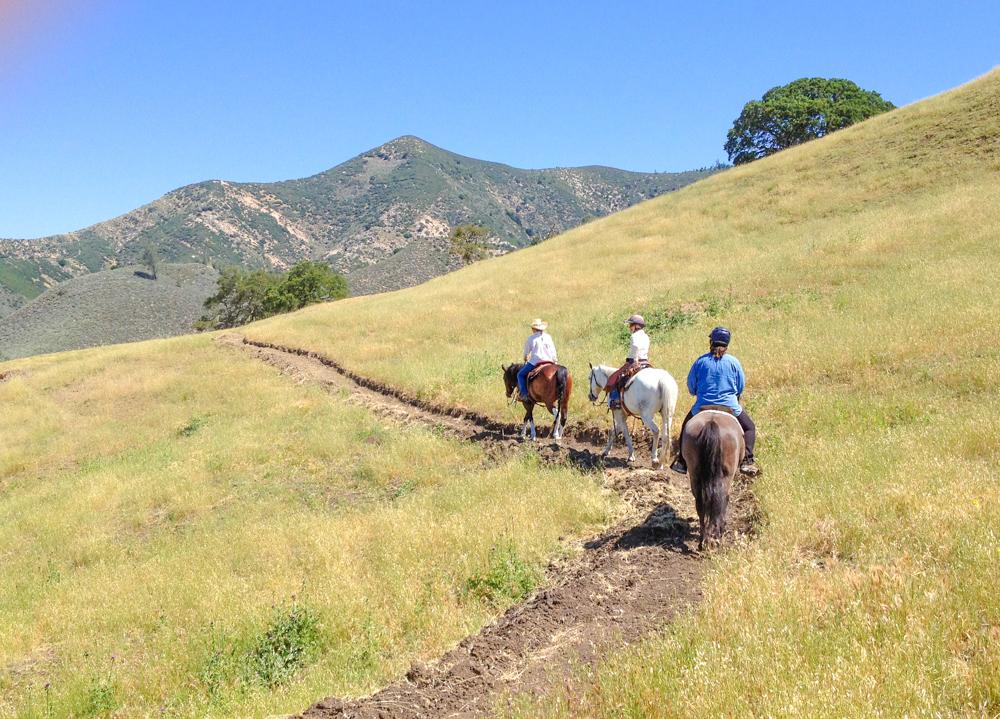 View Midland Map: Midland School Trail Map
Two of the more spectacular hikes/rides at Midland are the High Country Trail and Lover's Loop. The High Country Trail follows jeep roads and trails to a saddle on Coulter Pine Ridge with eye-catching views of the entire Santa Ynez Valley. Lover's Loop is as advertised — a combination of meandering trail through grass-and-oak-covered hillsides, awesome ridges and grass meadows — all with views of the impressive slopes of Grass Mountain.
Permits Required (revised 3/22/17 by Editor)
Those who want to experience the Midland trails are reminded that hiking and equestrian permits are required. They are easy to obtain. The Midland School trails are a private trail system opened to the public through the generosity of the school. Hikers must fill out a permit and parking pass at the trail heads, where permit boxes are located just off Figueroa Mountain Road (see map). Horseback riders must make a trail ride reservation at least 48 hours in advance of their visit by emailing horseback@midland-school.org. Permission to ride will be granted via email with detailed instructions. Midland does not accept trail ride requests by phone.