Vision for Bluff-Top Gaviota Coastal Trail Moves One Step Closer to Reality
Agreement with Paradiso Developers Will Provide $500,000 Endowment for Trails along Gaviota Coast
The Paradiso del Maré project includes a bluff top  Coastal Trail that will extend for over 1.1 miles along the scenic Gaviota Coast, the longest segment of the Coastal Trail acquired in the County since the 2004 acquisition of Ellwood Mesa in Goleta.  This scenic new trail will be first phase of the planned 20 mile long Gaviota Coastal Trail, which when completed will reach from Bacara Resort and Spa to Gaviota State Park.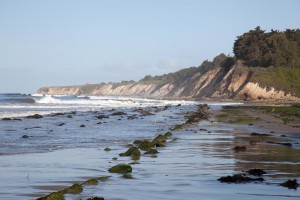 The project, located a quarter mile west of the Bacara Resort and Spa has dedicated over 100 acres of the property to a conservation easement, which will protect the rural character of the property for generations to come. The developers have also dedicated easements for the California Coastal Trail spanning the width of the property, an auxiliary loop trail, identified vertical beach access and an area for safe, onsite public parking.  Working together, the Trails Council and Brooks Street believe this project is a positive example of cooperation between developers and the community for future Gaviota projects that will offer great public benefits.
Issues related to trail construction feasibility were recently resolved with the establishment of an $500,000 endowment, funded by Brooks Street. The specific purpose of this funding is to begin implementation of the proposed Paradiso del Maré public access easements.  The Trails Council is slated to manage the endowment and coordinate fundraising for the estimated $1.5 million needed to complete the pedestrian bridge over the Union Pacific Rail Road, parking area, and a network of trails.
The Trails Council has established a California Coastal Trail Fund to accept donations specifically for this project. Community members are encouraged to donate to the fund.
Take a virtual stroll through Paradiso del Maré
10-

11-

12-

13-

14-

15-

16-

17-

18-

19-

20-

21-

30-paradiso-2

31-ParadisoSandBeach