Healthy People Healthy Trails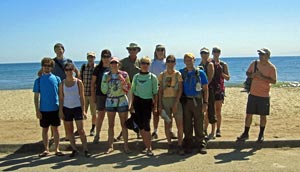 People increasingly spend more time indoors and less time in nature. In addition, few people get the recommended amount of activity. This sedentary lifestyle is a known contributor to chronic illness including type 2 diabetes, high blood pressure, and heart disease. However, when people choose to exercise, the most popular activity is walking. Local parks, trails and open space provide an opportunity for youth, adults and families. Further, increasing evidence shows that spending time in nature improves physical and mental well being.
In 2014, Sansum Clinic and Santa Barbara County Trails Council requested help from the National Park Service's Rivers, Trails, and Conservation Assistance Program to bring Healthy People Healthy Trails (HPHT) to Santa Barbara County. Other organizations have joined the effort, inspired by the opportunity to support good health through people enjoying the outdoors with their friends and family.
The mission of Healthy People Healthy Trails is to work collaboratively with land agencies, health care providers, and community partners to improve the health and wellbeing of community members through the use and enjoyment of trails, parks, and open spaces.
Walking for Health
Physical activity is an important component to good health. Walking is one of the simplest ways to be active, and you can do it almost anywhere. No matter how old you are, people of all ages and abilities can enjoy walking outdoors as a form of daily physical activity. You can walk around a park or on a dirt path or sidewalk. Healthy People Healthy Trails has resources that can help you choose where to start. To learn more about the program, visit www.healthypeoplehealthytrails.org
About The Trail Guide
Get connected to Santa Barbara County's parks and trails with our easy-to-use Trail Guide. Each map in the guide includes driving directions, a description of the trail, and other basic information. The paths and trails included in the Trail Guide are great for beginners and people of all ages. Visit the Healthy People Healthy Trails website to download your personal copy. Share it with family and friends, and get walking!
About the Prescription
One exciting part of Healthy People Healthy Trails program is that local healthcare providers can actually "prescribe" walking to their patients. Providers fill out the Healthy People Healthy Trails 'Prescription for Outdoor Activity' and send it home with their patient. The patient also receives a Trail Guide to help them pick a trail that is right for them. Working with a healthcare provider to set goals for walking can help patients in our community get active and live healthy.
Connecting with Nature
We are collaborating with a range of organizations that sponsor group hikes.
Fun Walks

Beach Walks

Ecology walks 

Botany walks 

Birdwatching walks 

Physician-led walks 

Athletic trainer-led walks 

Interpretive nature walks 

Archaeological walks 
In the News | Hiking for Health
The spring issue of Good Health, published by Sansum Clinic, features an article by John McKinney. John is a hiking expert and long-term Santa Barbara resident who is the author of numerous books about hiking, parklands and nature including HIKE for Health & Fitness. The [download id="6080″] article includes a list of ten ways hiking contributes to health & wellness.
Contact us
to learn more about how you can participate in developing the 
Healthy People Healthy Trails 
program.
As we move forward we will be collecting a list of links to interesting articles and resources that provide insight to how improving our connection with nature is good for our health.
Articles and Resources