The Trails Council has just published its first ever Annual Report, a twelve page review of accomplishments for 2011 and what to look ahead to in 2012. It includes articles about Trails Council's history, what we are doing to assure coastal access along the Gaviota Coast, along with our commitment to the future. Download a copy of the report today.
Download Annual Report 2011 (PDF 4MB)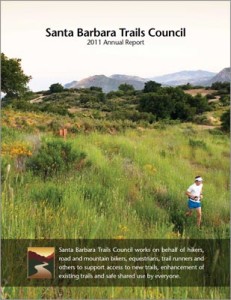 Join the Trails Council to support our 2013 programs, advocacy and projects. Individual memberships begin at $25 — a small price to pay to help guarantee our trails will be here for generations to come.