The Trails Council has just published its Annual Report, a twelve page review of accomplishments for 2012 and insight into the work we will be doing in 2013. It includes articles about our advocacy for a bluff-top trail and coastal access along the Gaviota Coast, progress on the Baron Ranch Trail to Camino Cielo, new trails at Midland School and a review of our trail planning work at Ellwood Mesa. Download a copy of the report today.
Download  Annual Report 2012 (PDF 4MB)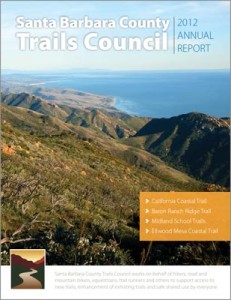 Join the Trails Council to support our programs, advocacy and projects. Individual memberships begin at $25 — a small price to pay to help guarantee our trails will be here for generations to come.