Long-Time Forest Service Trails Advocate Kerry Kellogg to Receive Trails Council Lifetime Achievement Award
Posted by Ray Ford on Mar 12, 2012 in Blog | 0 comments
Reception to Honor 35 Years of Distinguished Service on Behalf of our Local Trails.

Contact: Ray Ford (805) 886-5776 / ray@nullsbtrails.org
The Santa Barbara County Trails Council (SBTC) will be holding its Annual Meeting at the Faulkner Galley in the Santa Barbara Public Library on Wednesday March 14 from 6:30 to 9pm. A Wine and Cheese Reception beginning at 6:30pm will kick off an evening of remembrance and thanks to Mr. Kellogg, who retired recently.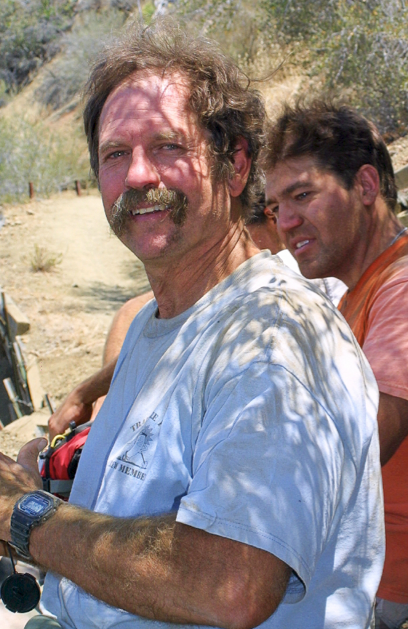 "There is no one in the Forest Service who has done more for trays or for those of us who've been a part of caring for our local trails," said SBTC President Otis Calef. "My only wish is that we could have him back for a few years more."
Kerry officially joined the Forest Service, Los Padres National Forest in 1977. During his 35-year tenure he has worked solely for the Santa Barbara Ranger District. Having grown up in Santa Barbara, he had no interest in looking for work anywhere else.
Kerry actually began his career in the summer of 1976 when he bought a 17-foot Travel Ease trailer to become the Paradise Campground Host. He was offered a forestry technician position eight months later in Recreation. In May of 1977, Kerry was re- interviewed by then FMO Daryl Daggett where it was explained that "men don't do recreation, men do fire".
For his first 10 years as a Los Padres Forest employee, Kellogg served in many fire suppression positions, starting as a Fire Prevention Technician, and thereafter as a member of Los Padres Hot Shot Crew, an Engine Crew Member and Fire Crew Supervisor for the Sun Downers Type II Suppression Hand Crew.
Toward the end of the Reagan Presidency and after an 8-year hiring freeze to reduce the size of "big" government, Kellogg moved into Recreation Management permanently, serving as a Wilderness Ranger, Off-Highway Vehicle Motorcycle Patrolman, Trail Crew Foreman, Trail Technician, Trail Builder, Mule Packer, basically anything and everything related to recreation. Kellogg ended his career as the Santa Barbara District Trail and Wilderness Manager. His business card simply read, "Recreation Specialist," thus proving FMO Daggett wrong: men can do both Fire and Recreation.
What may be Kellogg's most important legacy is the work he's done in the past half of his career to develop and promote a range of community-based trail programs that have enabled trails groups such as the Trails Council, Los Padres Forest Association, SB Mountain Bike Trail Volunteers and Montecito Trails Foundation to flourish and to provide services that would not have been possible without his efforts.
Come join us and share a glass of wine with Kerry as we honor both the man and his achievements. Bring along a story or two and share them with the rest of us.
The Trails Council is a non-profit, broad-based 501(c)(3) trails advocacy group that has worked cooperatively since 1969 with local, state and federal agencies for planning, maintenance and construction of existing and new trails.