A special shout out to all who attended last Wednesday's Trails & Ales event in honor of the Santa Barbara Sierra Club Group's donation to the Franklin Trail Fund. An extra big thank you to Sierra Club for the donation.
The Trail Project
Adding on to the lower trail segments, Phase III of the Franklin Trail will reopen a previously inaccessible trail segment, consisting primarily of vegetation removal and trail building along the historic route. When finished this section of trail will complete an 8 miles route beginning near the base of the Carpinteria foothills and terminating at the ridgeline of the Santa Ynez mountain range near the upper reaches of Sutton Canyon.
Sierra Club Donation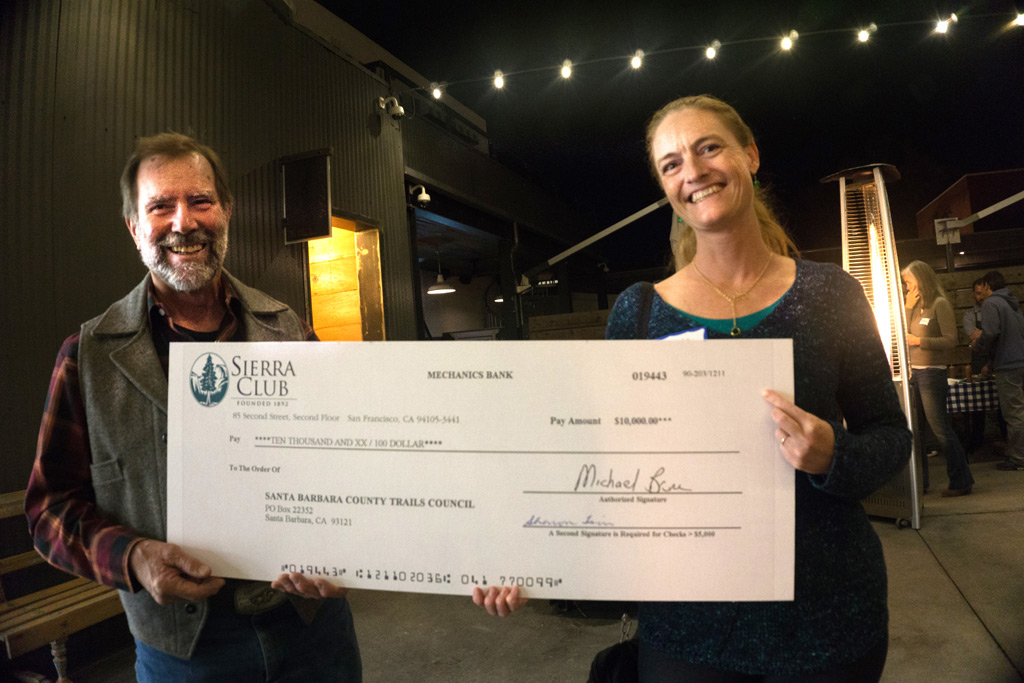 New trail projects in the Los Padres National Forest must conform to the National Environmental Policy Act (NEPA). The Santa Barbara Sierra Club Group's donation will help pay for the creation of the biological and cultural resources survey, report and agency review. The reports will inventory the resources and include recommended mitigation measures to minimize impacts to wildlife and/or plants as appropriate. The cost of the biological report was greatly reduced due to $8,800 in pro bono field survey and plant identification work provided by Carpinteria resident, Dr. Thomas Mulroy, an ecologist with Leidos.
Trails, Ales, Wine and Ranch Cuisine
Over 100 people attended the fundraiser held on December 2nd at The Mill and supported by Wildwood Kitchen, Potek Winery, Third Window Brewery and Becker's Studio Design and Build. The happy hour event resulted in an additional $3000 being donated to the Franklin Trail Fund. We have now raised 35% of our $110,000 goal. Check out the event photos:
Our appreciation goes out to Dorothy Littlejohn for photographing the event.