On Friday, November 1st, the Franklin Trail ribbon cutting was held with over 150 in attendance.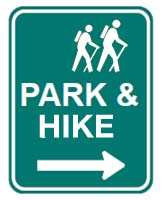 The Franklin Trail is Carpinteria's poster child for volunteering and in-kind service donations. Listening to all the accolades at the opening ceremony, one can only begin to guess the value for the time donated to the project that went way beyond moving dirt around with a pick and a shovel…Engineering, Carpentry, Electrical, Environmental Review, Design, Fundraising and more. A total of 24 people were honored for volunteering that resulted in a significant contribution to the project
For our portion, work started back in 2011 when Ray Ford planned out the one mile long "new trail" that went through the chaparral across the Horton Ranch. After scouting and planning the trail, a crew of volunteers cut the preliminary line. This was a lot of chainsaw work through dense thickets of lemonberry, manzanita and other brush.
Two years later when the Trails Council was contracted to build the trail, we received volunteer support from community members, a 12 member CCC crew and on several occasions a Youth Corp group came down from Lompoc to help. The design for the informational graphics at the trail entrance kiosk was also a Trails Council supported volunteer project.
We know the first phase of the project (2.15 mi) cost several hundred thousand dollars. What we do not know is the value of volunteer time and in-kind services. If one were to venture a guess, the overall project has a value pushing on one million dollars if you added in the value of volunteer work. For our part, the Trails Council's volunteer work hovers around $15K for trail planning, construction and design work.
Franklin Trail is a major community sponsored undertaking that is exemplary of how the infrastructure for nature-based recreation is being supported locally. To learn more do one or more of the following
Hike the trail. Here is a map
Read an article in the Independent.  1)  Franklin Trail  2) Franklin Trail
Make a donation for Phase 3. Visit Franklin Trail through the National Forest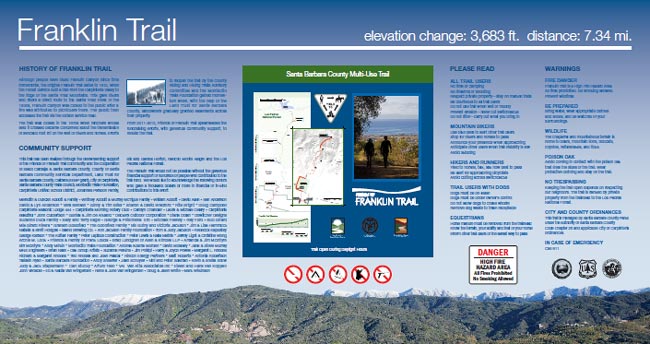 .
Take a look at a new film recently completed by Larry Nimmer: "The Reopening of The Franklin Trail"