We are collaborating with Friends of Franklin Trail, the Wildling Museum, Samy's Camera, Carpinteria Arts Center and others to capture significant moments that evoke the feel and mood of Carpinteria, California and the newly opened Franklin Trail.
About the Contest: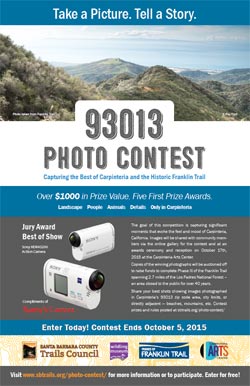 Images will be shared with community members via an online gallery and at an awards ceremony and reception on October 17th, 2015. Copies of the winning photographs will be auctioned off to raise funds to complete Phase III of the Franklin Trail spanning 2.7 miles of the Los Padres National Forest – an area closed to the public for over 40 years. The cost to plan, permit and reconstruct the historic trail is estimated at $130,000.
Here's How It Works
Share your best shots showing images photographed in Carpinteria's 93013 zip code area, city limits, or directly adjacent–beaches, mountains, etc., before midnight (PST) on October 5th, 2015
You always maintain the rights to your submissions.
By entering the contest you accept the terms of use (some use rights will be conveyed to Trails Council for promotional and fundraising use)
Enter September 8th until October 5th, 2015.
Vote until October 12th, 2015.
Judged based on creativity, originality and in accord with the five categories.
Entry fee: Free
Total prize value of: $1000
WHO: Contest is open to all of the following
High School Students – age 13 and older
Amateur Photographers
Professional Photographers
WHAT: The photo contest is limited to images shot in 93013 area code that includes Carpinteria.
The mission of the contest is to celebrate Carpinteria, therefore all photos must be taken within the 93013 zip code or directly adjacent–beaches, mountains, etc. Judging in October is by arts and photography professionals and community leaders who will select images for best of show in these five categories.
Landscape
People
Animals
Details
Only in Carpinteria – (something unique to the community)
Photos are uploaded to our web site. This is a two step process.  The first is to create an account. You will be sent a password and that will allow you to login and upload images. A brief form will need to be filled out. Maximum number of images is 10.
PRIZES
All images will be eligible for a "people's choice" award based on online voting.
There will be first, second, third, and honorable mention, so the exhibit will include 20 images and the people's choice award. The "Best of Show" award will be selected from the category winners.
Rules are posted here: contest rules.  Photographers will retain copyright to their images, but grant Trails Council the right to use the images for fundraising and promotion of the Trails Council.
WHEN: The contest will last 4 weeks from September 8th to midnight October 5th. We will have a reception and exhibit on October 17th and the winners will be announced. Winners will be provided one free ticket to the awards event. Winners receive free admission to the Wildling Museum.
WHERE: The contest takes place online at http://sbtrails.org/photo-contest/. The contest finale is a social event with the top images displayed; awards announced, and a silent auction will be held. The location of the exhibit/reception will be at the Carpinteria Arts Center in Carpinteria.
IMAGE REQUIREMENTS: Eligible images from a digital camera set at no less than 3 mega pixels high resolution or digitally scanned if from a non-digital camera must be in either JPG or PNG digital format at a file size of between 3 megabytes (minimum) and 9 megabytes (maximum) at 300 dpi (dots per inch) of sufficient resolution to print at 8 by 10 inch size without a loss of quality. Sufficient resolution to print at 16 by 20 inch size without a loss of quality is preferred.