Live Music and Happy Hour at Carpinteria Arts Center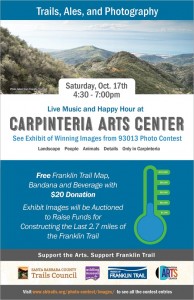 Please join the Santa Barbara County Trails Council and the Friends of Franklin Trail in a toast to the winners of the 93013 Photo Contest on October 17th, 2015 from 4:30-7:00pm at the Carpinteria Arts Center for an awards ceremony and fundraiser for Phase III of the Franklin Trail. Over a dozen award winning photographers will be honored at an open-air exhibit of their work. The large format prints will be silently auctioned to raise funds for the Franklin Trail. All donations will be matched, dollar for dollar, by the Santa Barbara Sierra Club Chapter up to $10,000.
In addition to the exhibit, the evening will include music by guitarist Chad Stone, an open bar and door prizes. Free beverage, Franklin Trail map, and colorful bandana included with $20 donation to the Franklin Trail Fund. Tickets are available at the door and online at: https://nightout.com/events/trails-ales-and-photography/
We invite YOU to join us for an early evening of art, philanthropy, and entertainment!
JUDGES 
The photography contest judges – leaders in the arts and community service – will decide who walks away with prizes in five categories, and a Best of Show Jury Award.
The Best of Show Jury Award is provided compliments of Samys Camera. 
93013 Photo Contest Awards
Only in Carpinteria Jury Award
Landscape Jury Award
People Jury Award
Animal Jury Award
Detail Jury Award
Best of Show Jury Award
People's Choice Award
About the Franklin Trail
With widespread support from the community we are reclaiming a 2.7 mile portion of the 8 mile long Franklin Trail. Established in 1913, but closed for the last 40 years, this section cuts through mountainous chaparral offering panoramic views of the islands, coastline and valley floor, as well as the crest of the Santa Ynez Mountains. Upon completion, the multi-use trail will provide hikers, equestrians, mountain bikers, trail runners and other trail users with a direct route from Carpinteria to the Santa Ynez River. So Far, we have raised $25K of our $110K goal. For information:https://sbtrails.org/our-work/trail-projects/franklin-trail/
About Santa Barbara County Trails Council
Santa Barbara County Trails Council is a non-profit advocacy group that was established almost five decades ago to protect and maintain hundreds of miles of trails for all types of nature-based recreation. We advocate for the conservation of natural spaces in order to create opportunities for the expansion a county-wide network of multi-use trails for recreation. We provide guidance and effective management for trail planning, construction and maintenance projects for public agencies. We also manage a popular year-round recreational hiking program and a volunteer supported trail maintenance program. For more information visit http://sbtrails.org/
About Friends of Franklin Trail
Friends of Franklin Trail is a volunteer group working to raise community support and private funds for the construction and reopening of a multi-use trail in the Carpinteria foothills. The project goal is to reopen the historic Franklin Trail and once again connect our community to its beloved back country wilderness areas. After successfully opening the first two miles in 2013 and an addition three miles in 2015, the organization is working with the Santa Barbara County Trails Council to complete the remaining 2.7 miles to the crest of the Santa Ynez Mountains. For more information visit http://franklintrail.org/
About Carpinteria Arts Center
The Carpinteria Arts Center is a non-profit organization that helps foster community involvement in the creative process and appreciation of the arts. To achieve its mission, the Carpinteria Arts Center promotes and supports the arts, provides educational opportunities, and enriches the quality of life in the Carpinteria Valley. For more information visit http://www.carpinteriaartscenter.org/
About Wildling Museum
The Wildling Museum was founded in 1997 by artist Patti Jacquemain who felt that a museum showcasing beautiful art of wilderness areas could help to educate and inspire new audiences to care about the preservation of our country's dwindling natural areas. The Wildling's mission is to inspire the community and visitors to enjoy, value, and conserve wildlife and natural areas through art.  The Wildling Museum provides artistic, educational, and field experiences for that purpose. For more information visit http://www.wildlingmuseum.org
About the Sierra Club
The Sierra Club is America's largest and most influential grassroots environmental organization, with more than 2.4 million members and supporters. In addition to helping people from all backgrounds explore nature and our outdoor heritage, the Sierra Club works to promote clean energy, safeguard the health of our communities, protect wildlife, and preserve our remaining wild places through grassroots activism, public education, lobbying, and legal action. For more information visit http://sbsierraclub.org